I like to follow all events connected with dogs, and if there is an event connected with Yorkshire Terriers I am especially interested in it! This Sunday there will be a meeting for Yorkies and their owners at the main (second biggest) shopping mall in my city. Of course, I must be present. I work everyday long hours and unfortunately I do not participate in as many events, as I would like to take part in. This event will be held on Sunday, so it is perfect for all the interested people to come. My Yorkie will be very happy and excited to see so many other Yorkies. My dog is a very sociable, friendly and easy-going pet - she likes to play and have fun with other dogs, no matter what their size is. However, her favourite companions are other small dogs, especially representatives of her own breed - Yorkshire Terriers. The "Yorkomania" program includes:
13:30 - choosing the cutest puppy
14:30 - main competition for the most beautiful, fashionable and the most clever/ the smartest Yorkshire Terrier
and finally choosing the Miss and Mister
In addition
accessories, food, cosmetics, clothes and toys for dogs will be presented
experts in breeding, care, training, and health will give advice
free micro-chipping
numerous contests with prizes for the audience
more details on
Galeria Krakowska's website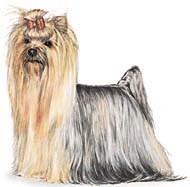 I will post a photo report probably on the same day! Stay tuned!
the poster advertising the event devoted to Yorkshire Terriers